Mobile Payment Solutions
Whether you're taking your business to an outdoor event or simply want to make accepting payments easier than ever, mobile payment acceptance from American Merchant Center is a must. We live in a mobile society, so why should business be any different? It's time to take advantage of that mobile technology with our state-of-the-art mobile credit card readers and wireless credit card machines.
Our mobile payment solutions are part of the reason we've developed into a Top Rated National® payment processing solutions company, and we can't wait for you to experience the difference they can make for your business. Remove the limitations of being tied to one single location and take advantage of these benefits with American Merchant Center.
1. Take Your Business Anywhere
Mobile payment solutions give you more freedom than ever. Travel with your business on the road or set up during a crowded outdoor event and accept payments easier than ever. Depending on your business, this can have incredibly beneficial results on your bottom line. From restaurants easily selling their dishes at local events to retailers selling their products on the go, you are no longer limited to one physical location!
2. Reach More Customers
With the freedom to take your business anywhere comes the ability to reach an untouched group of customers. The more places your product or service is visible, the larger your overall footprint becomes, and the more success you have! Whether that be establishing a pop-up store near your place of business that makes your products more visible, or traveling across town to expand to an entirely new clientele base, you can do so with confidence that you'll be able to accept payments anywhere.
3. Improve Convenience
When thinking about modern consumers, convenience is a must. If they can't pay in the manner they prefer, not only do you lose their business in the moment, they are also less likely to return in the future. Mobile payment solutions improve convenience by allowing customers to pay using multiple techniques.
4. Build Trust
As a result of that improved convenience, you begin to build trust with customers in more ways than one. Especially true for small businesses, accepting various types of credit cards in addition to cash and debit cards proves the validity of your business. Though you may not realize it, a customer is more likely to trust that a company is more established and secure when it accepts credit card payments rather than cash-only payments. As this trust builds, customers are more likely to return to your business and recommend it to others.
5. Manage Payments
If you've been operating a pop-up or traveling business for an extended period of time, you likely understand how cumbersome it can be to manage, track, and record cash-only payments. Our mobile payment solutions remove that burden by providing management tools that make tracking inventory and sales simpler than ever.
When you're ready to partner with a Top Rated National® provider of merchant services, turn to American Merchant Center. We'd be happy to help you select the mobile payment solutions that work best for your business.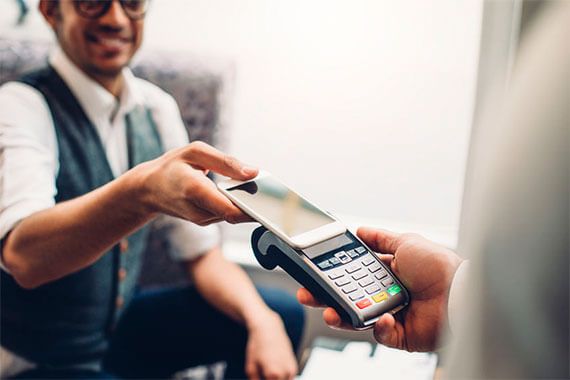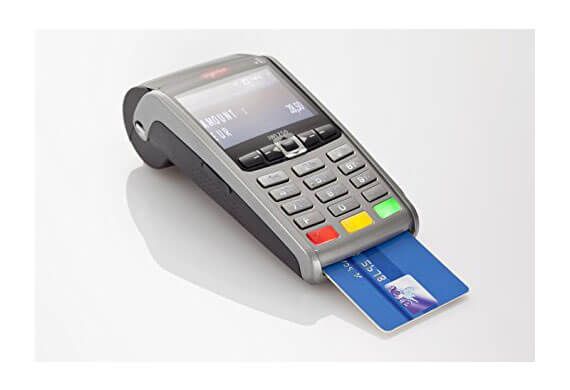 Wireless Credit Card Machines
Ingenico iWL250 – Accept Payments Anywhere
The Ingenico iWL250 wireless credit card terminal allows you to process payments wherever you please by connecting to a cellular signal. Its compact design that is easy to transport and extra-long battery life ensures that you can process payments all day uninterrupted. The iWL250 can accept all payment types, including contactless payments such as Apple Pay, EMV chip cards, and regular credit cards. It comes with a PINPAD, built-in receipt printer, and keypad.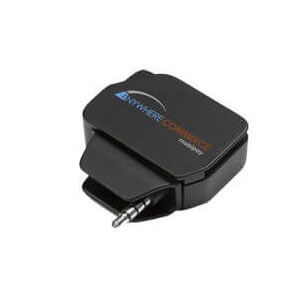 Turn Your Smartphone or Tablet into a Credit Card Machine
Rambler 3.0 Mobile Card Reader
The Rambler 3.0 Mobile Credit Card Reader connects directly to your mobile device or tablet, and comes with a free payment processing application. Get real-time authorization for both swipe and keyed transactions. Use your screen as a signature capture and email receipts immediately to your customers.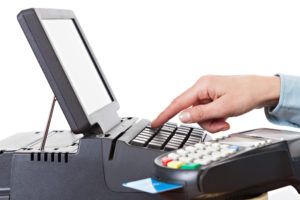 Mobile Payment Solutions
American Merchant is the premier provider of mobile payment solutions for businesses across all industries. When you need a secure way to take payments on the go, you can turn to our convenient mobile phone credit services. Enjoy mobile payment processing and expand your company's capabilities to accept payments from both debit and credit cards no matter where you are located. You can have peace of mind knowing that every transaction is secure and fully encrypted.
HOW DOES IT WORK?
Taking payments using a mobile phone credit card reader is a simple process. Simply insert the mobile card reader into your smart phone and open an app on your mobile phone to begin taking payments. When the customer is ready to swipe, the card can be easily swiped in the mobile card reader while it is attached to the phone. Taking payments has never been simpler than with our easy to implement mobile payment solutions.
GET STARTED TODAY
Your company can begin taking payments with nothing more than a mobile phone and mobile phone credit card reader. Enjoy our simple to use equipment and the best value on our affordable merchant services. We never charge annual fees, contracts, or cancellation fees and our 24/7 support staff is always ready to assist you.
CONTACT US
Contact American Merchant for more information about merchant services and products by calling us at 1(800) 319-2274 today. We look forward to helping your business accept payments from any location. Give us a call today!