Portable Credit Card Reader
Card readers and imprinters give your business the flexibility to take payments at outdoor events, tradeshows and more. As one of the leading merchant service companies in the nation, you can feel confident knowing you are getting quality products offered at the most competitive prices.
Smartphone Credit Card Payment Solutions
There is no need for a cash register when you can use a state of the art smartphone credit card reader offered by American Merchant. We make it easy for your business to accept debit and credit card payments without the hassle of being tied down to one location. With a portable card reader, you can provide your employees with the capability to accept payments at any time and from any location with ease and convenience. Our secure payment processing system will guarantee that each transaction is encrypted and secure.
If you are unsure about which portable credit card reader is right for your business needs, just give us a call. You can depend on us to help you choose just the right portable card reader for your business. Our friendly support staff is available 24-hours a day to provide the reliable assistance you need.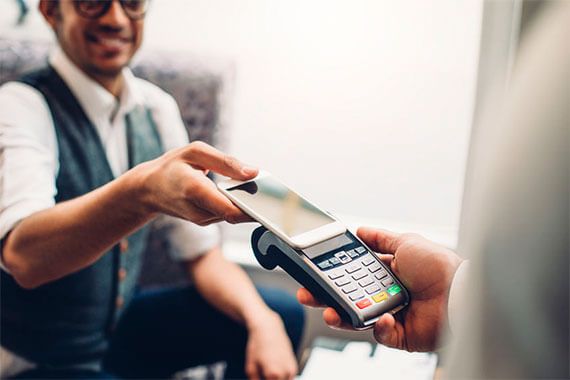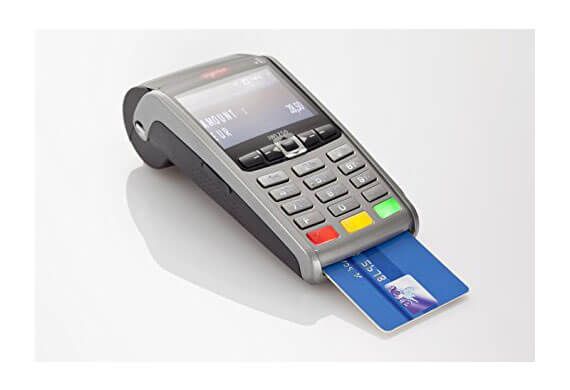 Wireless Credit Card Machines
Ingenico iWL250 – Accept Payments Anywhere
The Ingenico iWL250 wireless credit card terminal allows you to process payments wherever you please by connecting to a cellular signal. Its compact design that is easy to transport and extra-long battery life ensures that you can process payments all day uninterrupted. The iWL250 can accept all payment types, including contactless payments such as Apple Pay, EMV chip cards, and regular credit cards. It comes with a PINPAD, built-in receipt printer, and keypad.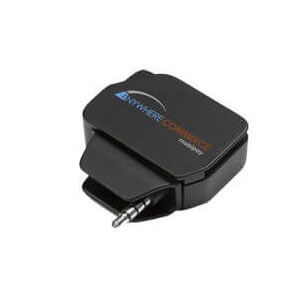 Turn Your Smartphone or Tablet into a Credit Card Machine
Rambler 3.0 Mobile Card Reader
The Rambler 3.0 Mobile Credit Card Reader connects directly to your mobile device or tablet, and comes with a free payment processing application. Get real-time authorization for both swipe and keyed transactions. Use your screen as a signature capture and email receipts immediately to your customers.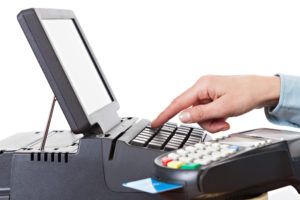 Mobile Payment Solutions
Cropped image of man using NFC technology to pay bill at cinema American Merchant is the premier provider of mobile payment solutions for businesses across all industries. When you need a secure way to take payments on the go, you can turn to our convenient mobile phone credit services. Enjoy mobile payment processing and expand your company's capabilities to accept payments from both debit and credit cards no matter where you are located. You can have peace of mind knowing that every transaction is secure and fully encrypted.
HOW DOES IT WORK?
Taking payments using a mobile phone credit card reader is a simple process. Simply insert the mobile card reader into your smart phone and open an app on your mobile phone to begin taking payments. When the customer is ready to swipe, the card can be easily swiped in the mobile card reader while it is attached to the phone. Taking payments has never been simpler than with our easy to implement mobile payment solutions.
GET STARTED TODAY
Your company can begin taking payments with nothing more than a mobile phone and mobile phone credit card reader. Enjoy our simple to use equipment and the best value on our affordable merchant services. We never charge annual fees, contracts, or cancellation fees and our 24/7 support staff is always ready to assist you.
CONTACT US
Contact American Merchant for more information about merchant services and products by calling us at 1(800) 319-2274 today. We look forward to helping your business accept payments from any location. Give us a call today!